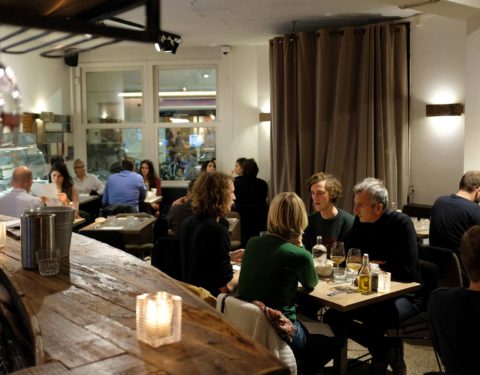 Oudjaar in Fiskebar
Hoe beter het jaar afsluiten dan met een etentje in uw favoriete visrestaurant? Reserveren kan eenvoudig via deze link.
We vragen u wel een voorschot van 25 € / persoon te betalen.
Verlekker u alvast aan het inspiratiemenu van de chef:
//
Glaasje Canard-Duchenne champagne met 2 oesters
---
Licht gegrilde coquilles | foie gras | kastanjes | chorizo crumble
---
Bisque | langoustine
---
Citroensorbet | BelRoy's vodka
---
Tarbotfilet  | gebakken wintergroenten | aardpeercrème | zee-egel saus
---
Trio van chocolade
---
Koffie of thee
---
Water a volonté
//
€199 per 2 personen.
Gasten worden verwacht tussen 18u en 20u.
Aanpassing aan de menu zijn altijd mogelijk, deze kunnen telefonisch of per mail besproken worden.
Wij zijn gesloten op kerstavond, kerstdag en nieuwjaarsdag, maar we kunnen wel een heerlijk feestmenu voor je samenstellen dat je op 24 en 31 december tot 18u kunt komen afhalen. Dit is à la carte en kan telefonisch (03 257 13 57) of via mail (info@fiskebar.be) op voorhand doorgegeven worden.
–
New year's eve
What better way to end the year, than a diner at your favorite fish restaurant? Reservations are very easy with this link.
We do ask you for a deposit of 25 € per person.
Here is our chef's inspiration menu:
//
A glass of Canard-Duchenne champagne accompanied with two oysters
---
Lightly grilled scallops | foie gras | chestnut | chorizo crumble
---
Bisque | langoustine
---
Lemonsorbet | BelRoy's vodka
---
Turbot filet | grilled winter vegetables | crème of Jerusalem artichoke | sea urchin sauce
---
Trio of chocolate
---
Coffee or tea
---
Water a volonte
//
€199 per 2 persons.
Menu adjustments are always possible. These are discussable by mail or by phone.
Guests are expected between 18:00 and 20:00.